Watch Sword Art Online Season 3 Alicization – War of Underworld
Welcome to SaoWorld.com! Watch Sword Art Online Episodes English Subbed And Dubbed Online. You can watch all Sword Art Online seasons 1 and 2 and 3 War of Underworld ( Sword Art Online Alicization ) Episodes, Specials, Movies, OVA… for free Online And in high quality HD. With our Responsive Design you can watch the Episodes on your mobile phone, tablet, laptop…etc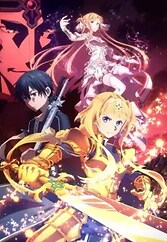 Title: Sword Art Online – Alicization – War of Underworld
Type: TV Series
Year: Oct, 2019
Genre: Action, Adventure, Fantasy, Romance, Science Fiction, Seinen, Thriller
Status: Ongoing
Air Date: Every Saturday
Summary
With only a murky recollection of what happened right before he logged in, he starts to wander around, searching for clues. He comes upon an enormous, pitch dark tree (the Gigas Cedar), where he encounters a boy. "My name is Eugeo. Nice to meet you, Kirito.".(Source: Crunchyroll USA)
Title: Sword Art Online Season 3 – Alicization
Type: TV Series
Year: Oct 06, 2018
Genre: Action, Adventure, Fantasy, Romance, Science Fiction, Seinen, Thriller
Status: Finished Airing
Air Date: Every Saturday
Summary
The third season of Sword Art Online."Underworld" … the world that could outstrip even "SAO."
Residents are NPCs who are just like humans.
Kirito wanders into and gets lost in "Underground."
He and his new friends struggle to escape as they unravel the secrets of this new virtual world….(Source: Aniplex USA)
Title: Sword Art Online II
Type: TV Series
Year: Jul 05, 2014 to Dec 20, 2014
Genre: Action, Adventure, Fantasy, Romance, Science Fiction, Seinen, Thriller
Status: Finished airing
Air Date: Every Saturday
Summary
A year after the past event, Kirito is asked by Kikuoka to investigate Gun Gale Online, specifically Death Gun, a weapon which seemed to link deaths in the virtual reality world to those in the real world. Upon entering the game, Kirito meets Sinon who teaches him the ropes of the game. They both enter the Gun Gale Online tournament, Bullet of Bullets. Kirito displays his amazing skills although he is only a newcomer to the game. Later, Kirito finds out that the mysterious deaths are linked to a red guild named Laughing Coffin in SAO.(Summaries provided by ANN and AniDB)
Series Information
Title: Sword Art Online
Type: TV Series, 25 episodes
Year: Jun 24, 2012
Genre: Action, Adventure, Fantasy, Romance, Science Fiction, Seinen, Thriller
Status: Finished airing
Air Date: Every Saturday
Summary
Trapped and fighting for their very lives in a Virtual Reality MMORPG, Aincrad Online, the story explores the mishaps and adventures of the greatest one handed swordsman of the VR world, Kirito. Together with his friends, the solo swordsman strives to finish the game, which in turn will release all the minds trapped into Aincrad.
(Summaries provided by ANN and AniDB)
Series Information
Title: Sword Art Online Alternative – Gun Gale Online
Type: TV Series
Year: April 07, 2018 – June 30, 2018
Genre: Action, Adventure, Fantasy, Romance, Science Fiction, Seinen, Thriller
Status: finished airing
Air Date: Every Saturday
Summary
The story follows Karen Kohiruimaki, a 183-centimeter-tall (6-foot-tall) college student who's insecure her height, and is bad at dealing with people in the real world. She enters the world of Gun Gale Online with her avatar, Llenn, who is less than 150 centimeters (5 feet) tall and wears all pink. She meets a beautiful, brown-skinned female player who goes by Pitohui. They hit it off, but one day Pitohui pressures her to participate in "Squad Jam," a team Battle Royale variation of the Bullet of Bullets tournament.
(Summaries provided by ANN and AniDB)
Choose an episode to play
Sword Art Online Season 3 Alicization War of Underworld Episodes:
Sword Art Online Alicization War of Underworld Episode 1 Subbed – Online Watch Now!.
Sword Art Online Alicization War of Underworld Episode 2 Subbed – Online Watch Now!.
Sword Art Online Alicization War of Underworld Episode 3 Subbed – Watch Now!.
Sword Art Online Alicization War of Underworld Episode 4 Subbed – Online Watch Now!.
Sword Art Online Alicization War of Underworld Episode 5 Subbed – 09 November Online Watch Now!.
Sword Art Online Alicization War of Underworld Episode 6 Subbed – 16 November (NEW) Online Watch Now!.
Sword Art Online Season 3 Episodes:
Sword Art Online Season 3 Episode 24 Subbed – Added March 30, 2019
Sword Art Online Season 3 Episode 23 Subbed – Added March 23, 2019
Sword Art Online Season 3 Episode 22 Subbed – Added March 16, 2019
Sword Art Online Season 3 Episode 21 Subbed – Added March 09, 2019
Sword Art Online Season 3 Episode 20 Subbed – Added March 02, 2019
Sword Art Online Season 3 Episode 19 Subbed – Added Feb 23, 2019
Sword Art Online Season 3 Episode 18.5 Subbed – Added Feb 16, 2019
Sword Art Online Season 3 Episode 18 Subbed – Added Feb 09, 2019
Sword Art Online Season 3 Episode 17 Subbed – Added Feb 02, 2019
Sword Art Online Season 3 Episode 16 Subbed – Added Jan 26, 2019
Sword Art Online Season 3 Episode 15 Subbed – Added Jan 19, 2019
Sword Art Online Season 3 Episode 14 Subbed – Added Jan 13, 2019
Sword Art Online Season 3 Episode 13 Subbed – Added Jan 05, 2019
Sword Art Online Season 3 Episode 12 Subbed – Added Dec 22, 2018
Sword Art Online Season 3 Episode 11 Subbed – Added Dec 15, 2018
Sword Art Online Season 3 Episode 10 Subbed – Added Dec 08, 2018
Sword Art Online Season 3 Episode 9 Subbed – Added Dec 01, 2018
Sword Art Online Season 3 Episode 8 Subbed – Added Nov 24, 2018
Sword Art Online Season 3 Episode 7 Subbed – Added Nov 17, 2018
Sword Art Online Season 3 Episode 6 Subbed – Added Nov 010, 2018
Sword Art Online Season 3 Episode 5 Subbed – Added Nov 03, 2018
Sword Art Online Season 3 Episode 4 Subbed – Added October 27, 2018
Sword Art Online Season 3 Episode 3 Subbed – Added October 20, 2018
Sword Art Online Season 3 Episode 2 Subbed – Added October 13, 2018
Sword Art Online Season 3 Episode 1 Subbed – Added October 6, 2018
Sword Art Online Alternative – Gun Gale Online Episodes:
Sword Art online Alternative Episode 12 Subbed – NEW – June 30 – 2018
Sword Art online Alternative Episode 11 Subbed – June 23 – 2018
Sword Art online Alternative Episode 10 Subbed – June 16 – 2018
Sword Art online Alternative Episode 9 Subbed – June 09 – 2018
Sword Art online Alternative Episode 8 Subbed – June 02 – 2018
Sword Art online Alternative Episode 7 Subbed – May 26 – 2018
Sword Art online Alternative Episode 6 Subbed – May 19 – 2018
Sword Art online Alternative Episode 5.5 Subbed – May 12 – 2018
Sword Art online Alternative Episode 5 Subbed – May 05 – 2018
Sword Art online Alternative Episode 4 Subbed – April 29 – 2018
Sword Art online Alternative Episode 3 Subbed – April 21 – 2018
Sword Art online Alternative Episode 2 Subbed – April 14 – 2018
Sword Art online Alternative Episode 1 Subbed – April 7 – 2018
Season 2 English Dubbed:

Sword Art Online 2 Episode 24 Dubbed
Sword Art Online 2 Episode 23 Dubbed
Sword Art Online 2 Episode 22 Dubbed
Sword Art Online 2 Episode 21 Dubbed
Sword Art Online 2 Episode 20 Dubbed
Sword Art Online 2 Episode 19 Dubbed
Sword Art Online 2 Episode 18 Dubbed
Sword Art Online 2 Episode 17 Dubbed
Sword Art Online 2 Episode 16 Dubbed
Sword Art Online 2 Episode 15 Dubbed
Sword Art Online 2 Episode 14 Dubbed
Sword Art Online 2 Episode 13 Dubbed
Sword Art Online 2 Episode 12 Dubbed
Sword Art Online 2 Episode 11 Dubbed
Sword Art Online 2 Episode 10 Dubbed
Sword Art Online 2 Episode 9 Dubbed
Sword Art Online 2 Episode 8 Dubbed
Sword Art Online 2 Episode 7 Dubbed
Sword Art Online 2 Episode 6 Dubbed
Sword Art Online 2 Episode 5 Dubbed
Sword Art Online 2 Episode 4 Dubbed
Sword Art Online 2 Episode 3 Dubbed
Sword Art Online 2 Episode 2 Dubbed
Sword Art Online 2 Episode 1 Dubbed

Season 2 Specials:
Sword Art Offline 2 Episode 9
Sword Art Offline 2 Episode 8
Sword Art Offline 2 Episode 7
Sword Art Offline 2 Episode 6
Sword Art Offline 2 Episode 5
Sword Art Offline 2 Episode 4
Sword Art Offline 2 Episode 3
Sword Art Offline 2 Episode 2
Sword Art Offline 2 Episode 1
Season 2 Episodes
Sword Art Online 2 Episode 24 — Dec.20 – 2014
Sword Art Online 2 Episode 23 — Dec.13 – 2014
Sword Art Online 2 Episode 22 — Dec.06 – 2014
Sword Art Online 2 Episode 21 — Nov.29 – 2014
Sword Art Online 2 Episode 20 — Nov.22 – 2014
Sword Art Online 2 Episode 19 — Nov.15 – 2014
Sword Art Online 2 Episode 18 — Nov.08 – 2014
Sword Art Online 2 Episode 17 — Nov.01 – 2014
Sword Art Online 2 Episode 16 — Oct.25 – 2014
Sword Art Online 2 Episode 15 — Oct.18 – 2014
Sword Art Online 2 Episode 14.5 — Oct.11 – 2014
Sword Art Online 2 Episode 14 — Oct.04 – 2014
Sword Art Online 2 Episode 13 — Sep.27 – 2014
Sword Art Online 2 Episode 12 — Sep.20 – 2014
Sword Art Online 2 Episode 11 — Sep.13 – 2014
Sword Art Online 2 Episode 10 — Sep. 06 – 2014
Sword Art Online 2 Episode 9 –August, 30 – 2014–
Sword Art Online 2 Episode 8 –August, 23 – 2014–
Sword Art Online 2 Episode 7 –August, 16 – 2014–
Sword Art Online 2 Episode 6 –August, 09 – 2014–
Sword Art Online 2 Episode 5 –August, 02 – 2014–
Sword Art Online 2 Episode 4 –July, 26 – 2014–
Sword Art Online 2 Episode 3 –July, 19 – 2014–
Sword Art Online 2 Episode 2 –July, 12 – 2014–
Sword Art Online 2 Episode 1 –July, 5 – 2014–
Specials Episodes
Sword Art Online Extra Edition Episode 1
Sword Art Online Specials 9
Sword Art Online Specials 8
Sword Art Online Specials 7
Sword Art Online Specials 6
Sword Art Online Specials 5
Sword Art Online Specials 4
Sword Art Online Specials 3
Sword Art Online Specials 2
Sword Art Online Specials 1
Season 1 Dubbed Episodes
Season 1 Episodes
Sword Art Online Episode 25
Sword Art Online Episode 24
Sword Art Online Episode 23
Sword Art Online Episode 22
Sword Art Online Episode 21
Sword Art Online Episode 20
Sword Art Online Episode 19
Sword Art Online Episode 18
Sword Art Online Episode 17
Sword Art Online Episode 16
Sword Art Online Episode 15
Sword Art Online Episode 14
Sword Art Online Episode 13
Sword Art Online Episode 12
Sword Art Online Episode 11
Sword Art Online Episode 10
Sword Art Online Episode 9
Sword Art Online Episode 8
Sword Art Online Episode 7
Sword Art Online Episode 6
Sword Art Online Episode 5
Sword Art Online Episode 4
Sword Art Online Episode 3
Sword Art Online Episode 2
Sword Art Online Episode 1
Finished watching Sword Art Online? Other Anime Series to check:
Watch attack on titan season 3 | Sword Art Online Characters
Or Watch more Anime in English Subbed and Dubbed Online! Click here